Conventional homes can be customized, but they just can't compete with a versatile dome house plan. And one of our all-time favorite plans is the Miranda.
Why do we love it? That's an easy question to answer:
One or two stories. From two to four bedrooms. Enough living space in each design to comfortably accommodate just about any family. And it all comes with the safety and security concrete domes are known for.
A Versatile Dome House Plan for Families
Every dome floor plan is customizable, but the Miranda shows just how well a versatile dome house plan can transform from one layout to another. That versatility comes from the pillar-free construction of our domes. With no support beams or structural walls to limit your designs, you can find just the right combination of comfort, convenience, and privacy.
The Mirandas we're sharing here already come in six different pre-drafted designs. The multiple design options give you the chance to customize the home to your liking without compromising personality or functionality.
The nearly 1,600 square feet of the one-story floor plans offer up to 3 bedrooms, all built around a central kitchen-dining-living space. Meanwhile, the two-story plans give the master suite room to breathe without losing useful spaces for gathering, studying, or hanging with friends.
The Many Faces and Features of the Miranda
No matter which design you see for your family, the Miranda shares these central features in all of the floor plans. From natural light for great rooms to quiet corners for studying and working, you'll find these versatile dome house plans will work for just about anyone.
Living Spaces for All Purposes
Open and airy great rooms are a given with domes like this. But what you might not expect are all the little living spaces throughout the designs. Dens, nooks, libraries, and workout rooms all make an appearance in these plans.
Windows Everywhere
Some people think dome homes are dark inside because windows might be harder to install on curved walls. They couldn't be further from the truth! The Miranda's versatile dome house plan designs include entire walls of windows for gathering spaces. But you don't have to stop there: you can customize your own plan by adding frames for windows to the airform before we finish it out with the insulation and shotcrete.
Built-In Convenience
If you're building a family home, you'll need storage. And the Miranda has plenty of it. Beyond storage, you'll find more than enough room for your family's wardrobes, toys, and collectibles without feeling cramped or crowded.
Privacy and Comfort
Even with all the open space in these floor plans, you can still hide away without being disturbed. The bedrooms are the best examples of this privacy: the masters have a full bath attached, even with a soaker tub in some, and they're set apart from other bedrooms and gathering spaces.
One-Story Variations: Comfortable and Cozy
The convenience of a single-story floor plan is undeniable: no stairs, no noisy ceilings, and no tripping hazards. They're ideal for areas where a lower profile is required, as well as for families with mobility limitations. But don't let the one-level design fool you: there's still more than enough room for everything you need and want.
DL-4501: Lots of Living Space in a Small Footprint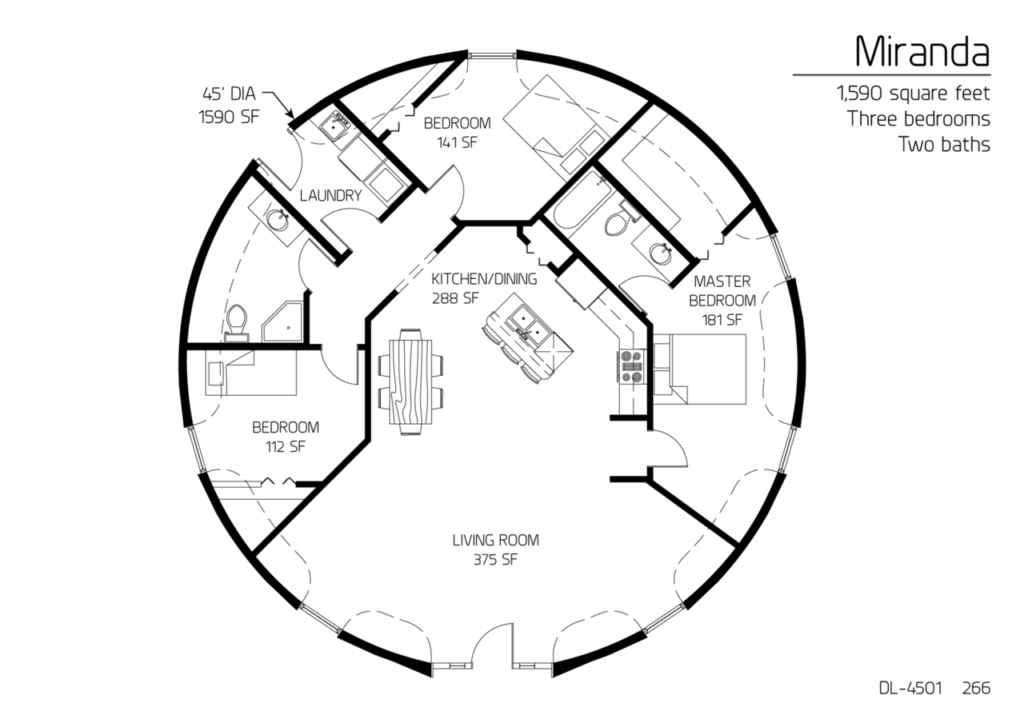 This particular floor plan prioritizes gathering space for entertaining. The bathroom and laundry room separate the second and third bedrooms, while the master suite sits behind the kitchen. The master offers a full bath and a spacious walk-in closet, so you'll have a perfect place to get ready in the morning and rest when the day is done.
Features:
1,590 sq ft
3 bedrooms, 2 bathrooms
Back entrance with laundry room and bathroom
DL-4505: Spectacular Views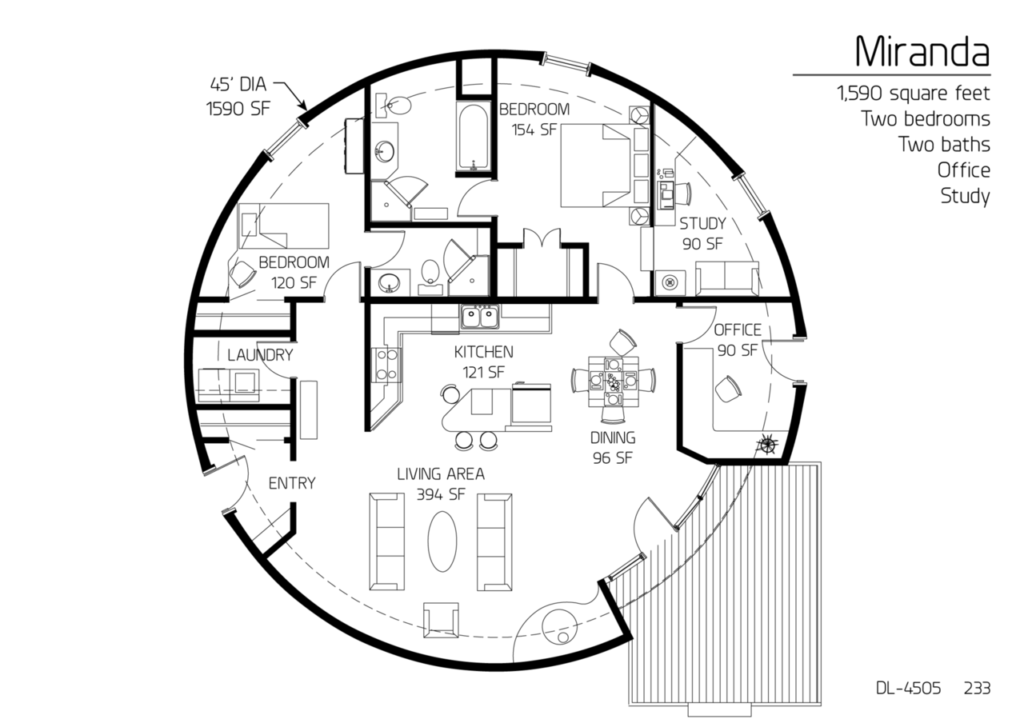 The DL-4505 takes inspiration from the great outdoors. This plan includes a beautiful deck attached to the great room, essentially expanding your living space past the walls of your home. Adjacent to the main living space is a small office with an exterior door, providing a perfect solution to feeling bogged down and caged in the middle of a work week.
Features:
1,590 sq ft
2 bedrooms, 2 bathrooms
Office and study, plus great potential for outdoor space
DL-4507: Magnificent Master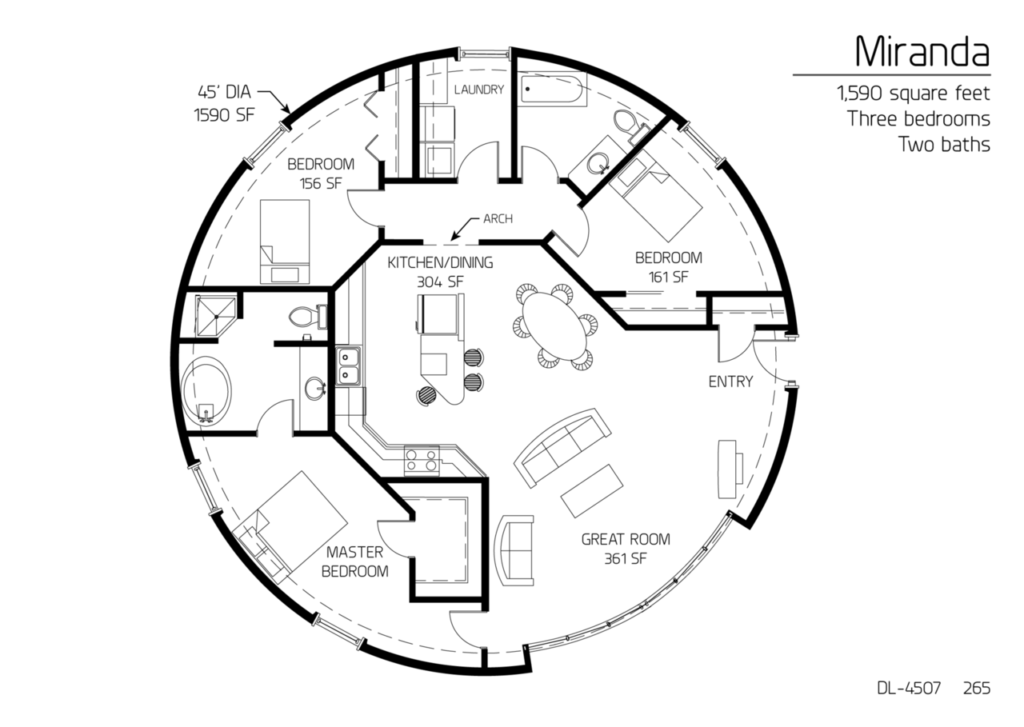 This design offers a more luxurious experience for the master bedroom. A full soaker tub and separate shower give you a refuge after busy days of working or entertaining.
There's also plenty of natural light for the main living space, making it feel open and airy all year long.
Features:
1,590 sq ft
3 bedrooms, 2 bathrooms
Beautiful master with soaker tub
DL-4508: Cozy and Convenient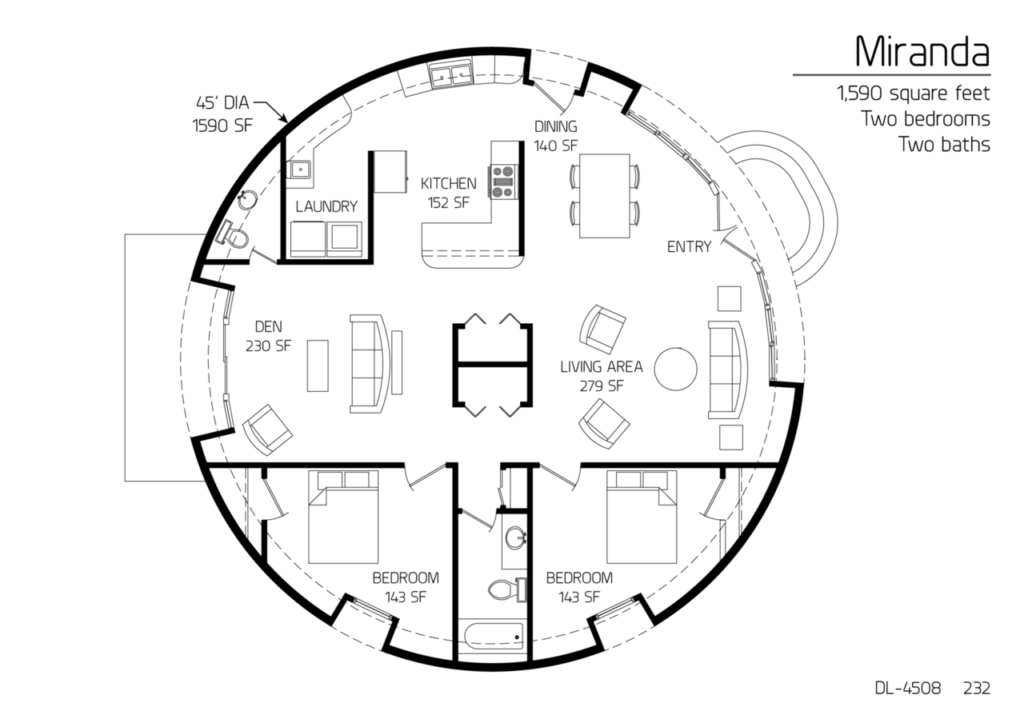 If you want more separation for your living space, this is the perfect plan for you. The DL-4508 expands the living space into a separate great room and den, perfect for watching the game in one room while people chat in another. Its cozy 2-bedroom layout puts a focus on busy activities throughout the day and simple, restful spaces when the sun goes down.
Features:
1,590 sq ft
2 bedrooms, 2 bathrooms
2 separate living areas with plenty of natural light
Two-Story Variations: Spacious and Inviting
Looking for more square footage? The Miranda can do that. By adding a second story to these versatile dome house plans, you can add more than 600 square feet to your design. But how you use that space is up to you!
DL-4509: Stretch Out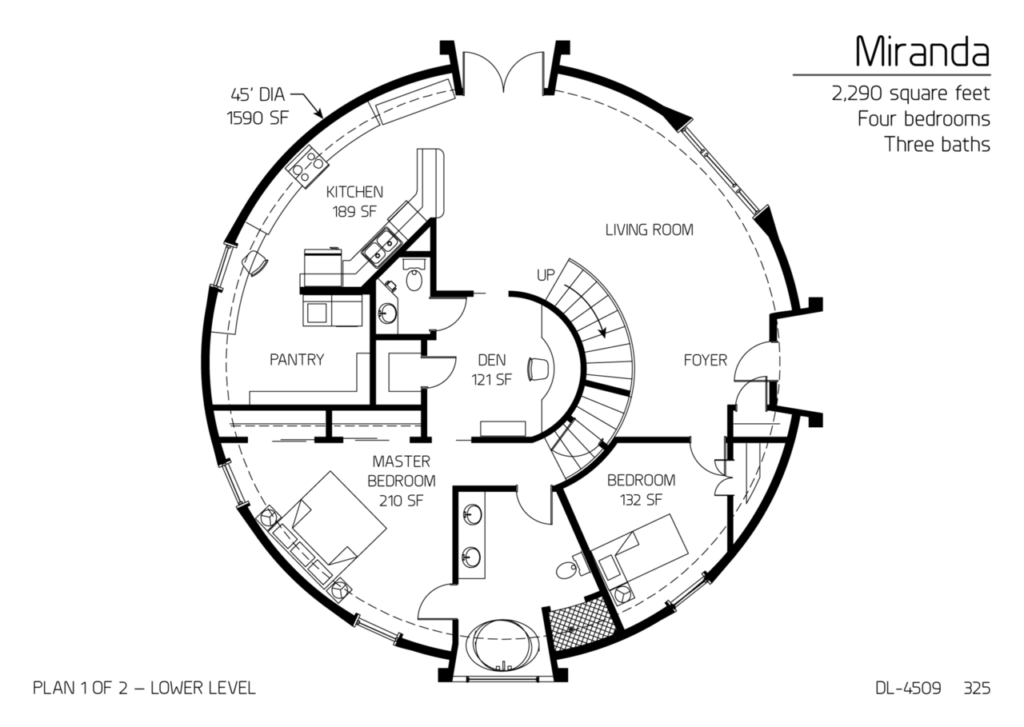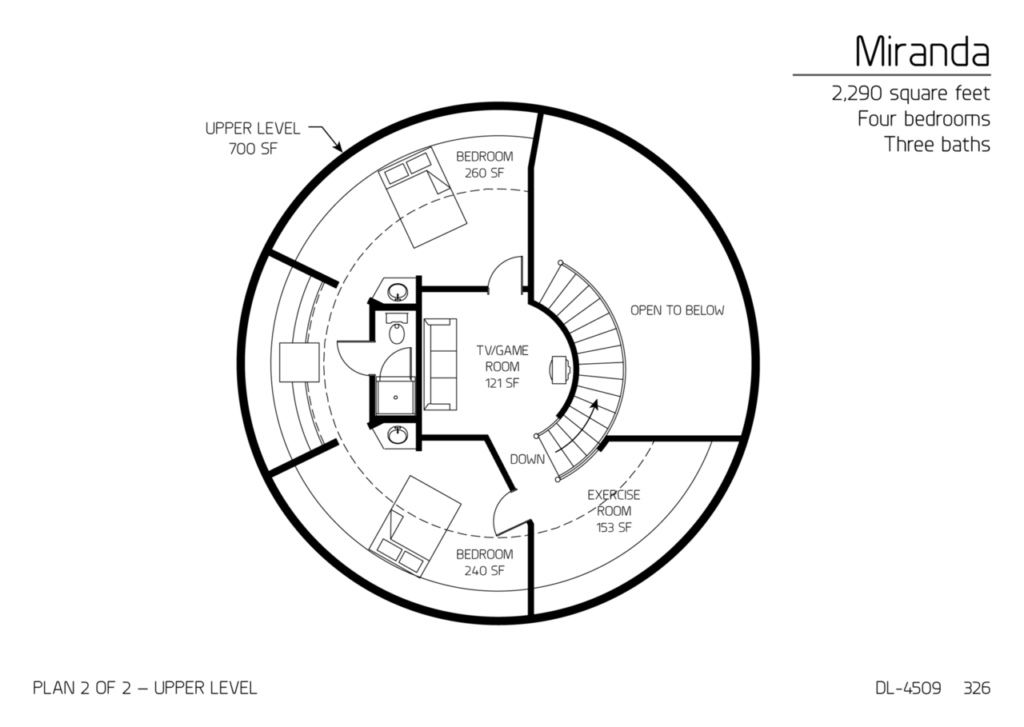 This dome home plan is a true family home. Its 4-bedroom design carves out a large main living space, a cozy den, and two bedrooms on the lower level.
On the second floor, you have two bedrooms connected by a Jack-and-Jill bathroom and closet. But there's still enough space to add two more gathering areas. You can exercise, watch a movie, and even observe the buzz of the gatherings below.
The first-floor master is tucked away behind a cozy den, giving plenty of privacy at the end of the day.
Features:
2,290 sq ft
4 bedrooms, 3 bathrooms
Large secluded main floor master suite
DL-4602: Spacious Upstairs Master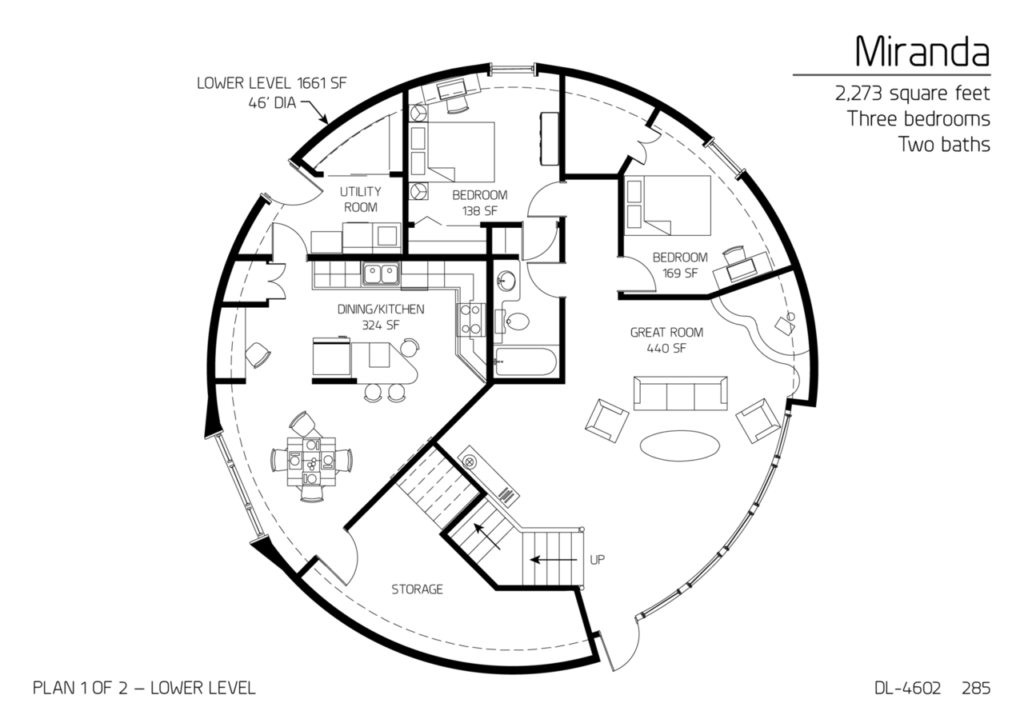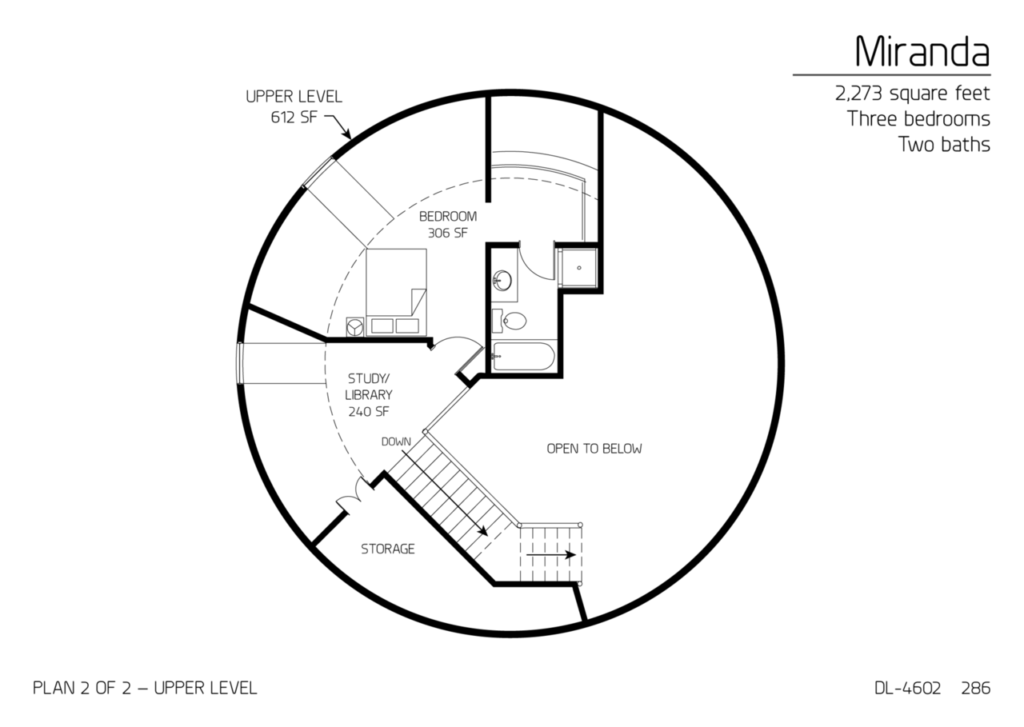 The DL-4602 takes a different approach to the Miranda floor plan. With more distinct spaces, you can have more separation for conversations. The back utility room doubles as a drop zone for busy families. That drop zone opens into the kitchen and dining space, including a small desk nook.
The kitchen and dining room lead into the great room, with its open ceiling and full wall of windows. Under the staircase is a massive storage area, perfect for keeping your family's things organized and out of sight. Two large bedrooms and a full bath complete the lower level.
Upstairs has one large bedroom with a four-piece master bath and walk-in closet. At the top of the stairs, you even have enough room to house a small sitting area, perfect for relaxing in the early hours of the morning before the day begins.
Features:
2,273 sq ft
3 bedrooms, 2 bathrooms
Roomy master suite on second floor, including a connected study
Why Choose a Versatile Dome House Plan?
Conventional homes are certainly more familiar, but can a custom home truly be custom if you can't move structural walls? We don't think so. Dome homes are the most versatile and customizable homes available. There's no structural support requirements because the dome itself is that structural support.
But dome homes are much more than just custom. They can withstand the worst weather imaginable with little to no damage. Domes can even survive wildfires, earthquakes, and floods. And that safety also comes with efficiency. You'll cut your energy bills in half, maybe even more, while reducing maintenance needs and costs significantly.
We know you'll love living in a custom-designed dome home, but the Miranda isn't the only versatile dome house plan we have available. If you need more convincing, we'd love to have you stop in and talk with us face-to-face. We'll even give you a tour of our on-site mini dome home. Give us a call or contact us online today to find out more!