If you're looking for ways to spruce up the exterior of your home this year, consider a decorative concrete project.
Decorative concrete is not only beautiful but can improve your home value with added curb appeal. What's more, the right concrete elements around your home will leave you wanting to spend more time outdoors.
Ways to Improve Your Home with Concrete
When it comes to incorporating concrete around your home, the options are nearly endless. But we're making it easy for you by detailing a few of our favorite ways to include decorative concrete in outdoor spaces.
Concrete Retaining Walls
Sloped yards often require retaining walls to help with drainage or soil stabilization. Retaining walls also make mowing and landscaping more manageable and provide more flat areas for your family to enjoy. Concrete is both a beautiful and functional solution to building retaining walls.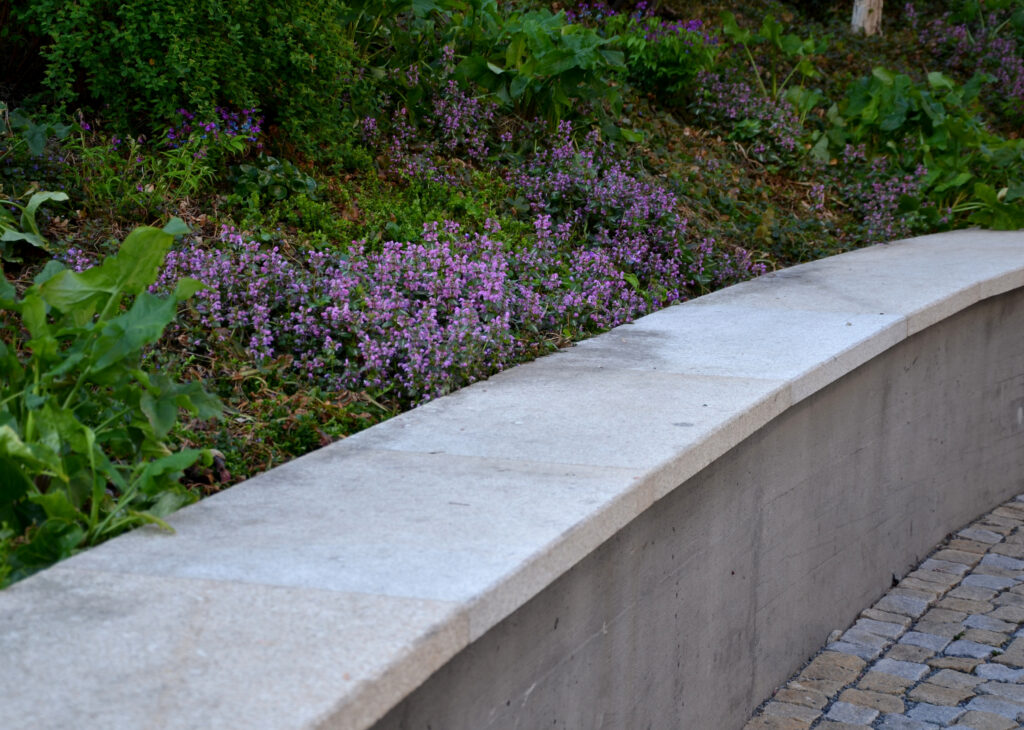 When it comes to building a concrete retaining wall, there are various types of concrete to consider. If you want a smooth-looking wall, consider a sand finish. Unlike traditional concrete finishes, sand-finished concrete is smooth, almost like what you'd see when a wave recedes from a shoreline. And this smooth finish tends to look more classy.
Alternatively, you could utilize a more organic and textured look using stamped concrete. Stamped concrete is highly versatile and provides a custom look that is not only low-maintenance but hides minor blemishes that inevitably appear over time. And with nearly endless color options, combined with the many available patterns, stamped concrete easily blends with other stonework that may already exist around your home.
Lighting Concrete Steps or Walkways
Few things make a backyard or front walkway more inviting (and safe) in the evenings than elegant LED lights. And if you have concrete stairs leading to your front door, a lit path not only looks great but makes your porch a whole lot safer. It's a relatively easy way to improve your home's appeal.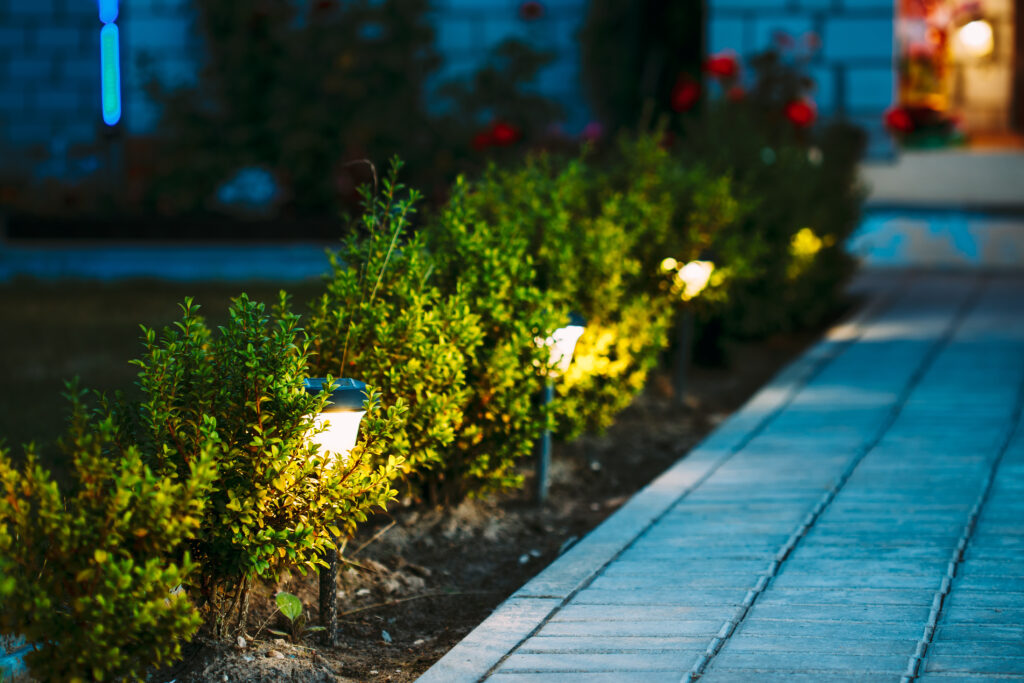 When designing a lit space, there are many available options on the market, and you can usually find multiple styles at any known big-box store. Some good rules of thumb: opt for fewer lights on flat paths (for a more subtle appearance) with more lights around steps or stairways.
Lights are also a great way to define the edge of a concrete patio in your yard or accent benches or fire pits.
Concrete Fire Pit
Speaking of fire pits, they are near the top of the list when it comes to popular outdoor home-improvement projects. There's nothing better than sitting around the fire with friends or family on a beautiful evening. 
Concrete is an excellent option for big or small fire pits. But carefully consider its placement since you'll want your fire pit in a location that is both safe and that everyone will enjoy. For example, don't place it too close to your home or under low-hanging trees.
When planning your concrete fire pit, consider including some built-in seating in the form of a concrete bench or seating nook around the fire. And consider the lighting options mentioned above, or hang string lights around your fire pit to help illuminate the space. You won't regret the hard work when you see how much this project can improve your home's outdoor space.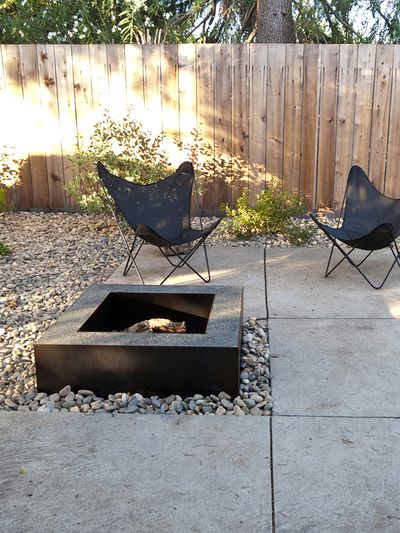 Stamped Concrete Patio
As we mentioned earlier, stamped concrete is not only versatile but beautiful, with color and texture options that can provide the exact look you want. When combined with a few pieces of comfy patio furniture, the right amount of shade, and maybe a small water fountain, a patio can transform your backyard into a tranquil getaway. And according to a 2018 report from the National Association of Realtors, a concrete patio is among the top five projects likely to add resale value to your home.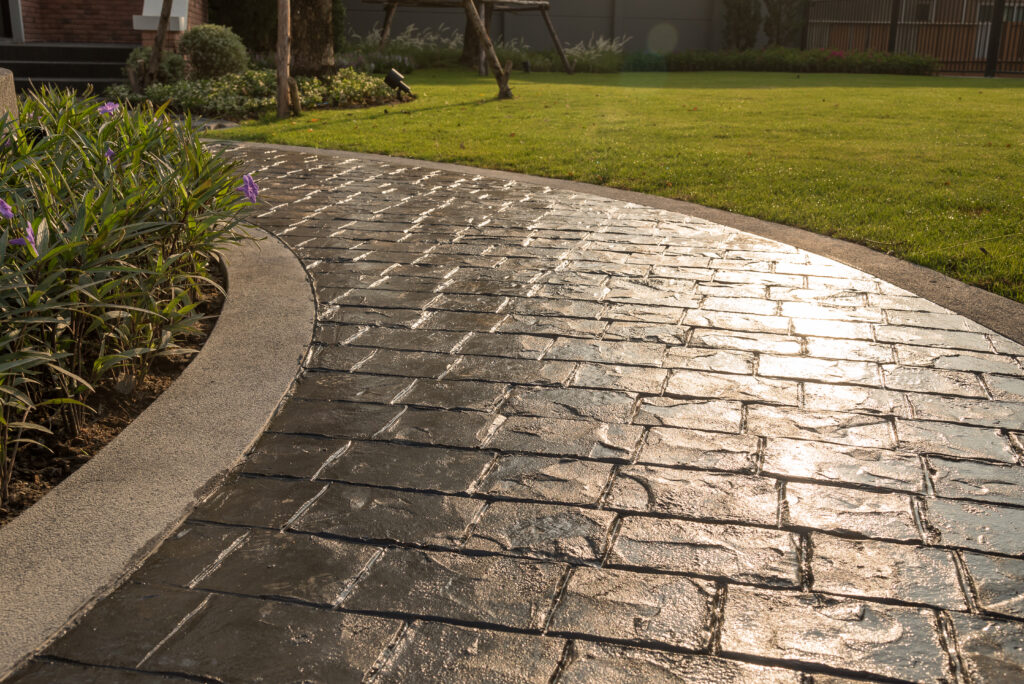 True, any concrete patio is better than no patio. However, if you're looking for a distinct look, stamped concrete is the only way to go. Stamped concrete can mimic the look of brick, tile, or stone of about any color. And stamped concrete can even look like wooden planks (that will never rot away!). 
We're Here to Help
Before you start a project to improve your home, there are a lot of things to consider when you're in planning mode. What finish do you want? What materials will you need? How much concrete should you order? And if you want decorative concrete, what color and texture? 
It's a lot to think about, so don't hesitate to reach out to us if you have any questions or concerns. We're happy to look at your setup and make recommendations on what would work best for you. Contact us today for more information!