If you're not in love with your backyard space, you have some great options to make it more comfortable for hot summer days and crisp fall nights. But some projects offer better returns on investment than others. Decks, patios, and fire pits all offer places to gather friends and families, but one of the best looking—and most value-adding—options is a stamped concrete patio.
What Is a Stamped Concrete Patio?
Poured concrete comes in many different forms, but we usually see the kind of concrete that composes driveways or sidewalks. These large pads tend to look a bit bland and boring, and it's rare to see a concrete slab in a color other than grey. Stamped concrete, although it's made with more or less the same material as driveways, takes the blank canvas and uses special techniques to create a beautiful work of art.
Once the concrete is poured, a special stamp pad is used to shape the top of the concrete into whatever decorative pattern the owner desires. This can be a cobblestone look, detailed filigree patterns, or even a simple paver design. And with a stamp instead of conventional pavers to shape and cut, almost any space, regardless of size or shape, can become a beautiful feature.
Why Stamped Concrete Patios Make Great Investments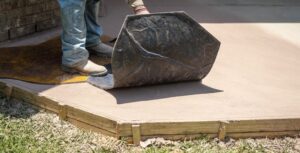 There are other options, including pavers, bricks, and concrete slabs, and each has its own advantages and disadvantages. So why choose stamped concrete instead of these other materials? We've got four great reasons to invest in a stamped concrete patio over the typical paver patio.
Incredible Personalization Options
Stamped concrete isn't just squares or rectangles. It can come in almost any shape. The designs are created by a large stamping pad that is pressed on the top layer of concrete to give it the desired look. Stamps can look like bricks, pavers, shapes, patterns, decorative elements, or even just slab-like blocks. Concrete layers and finishers can do borders that differ from the rest of the concrete, and the stamps can also look like natural stone pavers.
Additionally, stamped concrete can be colored or stained to nearly any hue. Stone and sand colors make for a warm and natural feel in your patio space, but more vibrant colors or dark greys can be used to match your preferred design taste. Whatever you choose, it will add sophistication and visual appeal to your backyard space.
Cost-Effective and Fast Installation
Even better, that visual appeal will take less money and less time to achieve than pavers. That's because stamped concrete patios are essentially large concrete slabs to start. It's important to get the foundation right, just as with pavers, but the process of setting, laying, and cutting the stone or concrete pavers means more limits to what is possible with pavers, plus a longer timeframe for completion.
Labor-intensive processes not only mean longer install times, but they also come with greater labor costs. While materials for paver patios may be less, the amount of money invested in labor makes for a much higher initial cost than stamped concrete patios. And instead of weeks of installation with pavers, your stamped patio could be done in a couple of days.
Little to No Maintenance
Time is hard to come by, so maintenance is an important part of the equation when choosing your patio material. When done well, concrete slabs take very little upkeep, which means less time trying to repair them. A local installer will know what to watch for in terms of weather conditions and temperature changes to make sure the concrete can withstand the climate it's in. This translates to as much as 25 to 30 years of almost no maintenance for a stamped concrete patio.
For some of the finishes, the concrete may require a sealant every three to five years, but the stamped concrete will only need to be pressure washed when too much dirt collects on the surface. These same sealants, though, also provide colorfast protection against stains and fading from sun exposure. Pavers can see moss growth, weeds, and shifting over the course of just one season. And pressure washing can wash out the sand used to set the stones in place.
Absolutely Amazing Return on Investment
Many home improvement projects add value to your property, but not all investments are equal. For example, a paver patio may offer a return on investment of around 65-70 percent if done well. But stamped concrete offers 80 percent or more in return, and can add up to 15 percent to a home's value.
Stamped Concrete Patio: Great for Recreation and Resale
It's all about the aesthetic appeal: stamped concrete patios, driveways, and walkways look exquisite, expensive, and clean. They add character to your outdoor spaces without some of the downfalls of other landscaping, and they last for years. These spaces are amazing for your own use, but if you want your house to stand out against others on the market, stamped concrete will quickly pull buyers to your property.
Looking to make the investment in stamped concrete? Brooks Construction offers a wide selection of patterns, colors, and styles to choose from, and our expert concrete installers know how to make a beautiful surface that lasts for decades in the cold winters and hot summers of the Northern Great Plains. We offer several decorative concrete services, but this is definitely one of the best for home value improvement and recreational enjoyment. Contact us here to sit down and start planning out your dream patio!