Concrete dome homes are known for their unique architecture and styling. Whether it's bermed hobbit-style homes or caterpillar-like mutlidome houses, there is no end to the creative designs that can be achieved with concrete domes. And on a small island off the coast of Belize, there is yet another unique dome home hiding within this gulf paradise. But what makes it especially amazing is that this is a vacation dome home that you can rent out as your own.
On the island of Ambergris Caye, the Xanadu Island Resort offers 20 fully-furnished, air-conditioned condominiums in 12 large concrete domes. These vacation dome home rentals are certainly unique, but the builders and owners of the resort went to great lengths to ensure that they were not out of place in hot and sunny Belize.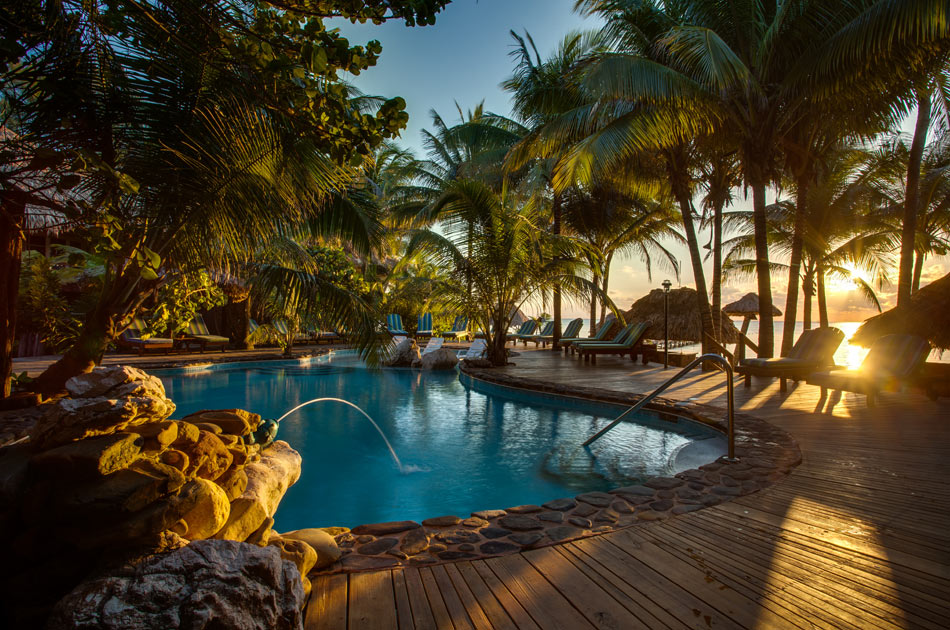 A Home Away From Home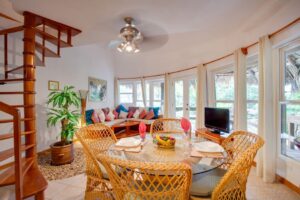 Completed in 2000, Xanadu Island Resort offers several floor plan configurations in their dome home rentals, ranging from beachfront studio apartments to executive suites with up to three bedrooms. Every apartment has a full kitchen and dining area as well, making it a perfect place to relax with your loved ones or cozy up as a couple.
With upgraded features like Italian tile floors and plush furnishings, these air-conditioned getaways also offer access to a freshwater pool and hot tub, bike and kayak rentals, and special evening events for guests. Only a mile away from San Pedro, guests can enjoy both the relaxing natural surroundings and the bustling shopping and dining of the nearby city. And the decks surrounding these dome home rentals overlook the Caribbean Sea and the world's second-largest coral reef.
A Dome Home Rental in True Belize Style
When owners Ivan and Judy Sheinbaum started their investment in this island paradise in 1998, they wanted to design it to fit into the natural environment and traditional design style of Ambergris Caye, the island on which Xanadu is built. A dome was certainly not part of the architectural history of this small island, so they built structural elements to match that aesthetic. The dome home rentals feature large thatched roofs built over the top of the domes, as well as large decks that extend the full circumference of the buildings. Each dome has two floors, plus a loft space for the upper apartment.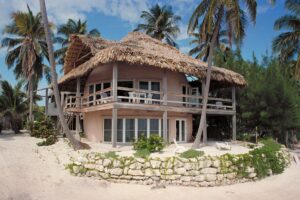 With these thatched-roof canopies, the concrete buildings look so natural that you may not even realize that they're large domes. Wraparound decks are accompanied by large picture windows so that the beach view is on display at all times, and indoor and outdoor living work together to give the full island experience to guests. Additional care was taken to maintain the trees and landscape around the buildings as well, making it feel like an even more natural part of the land.
The First Green Globe Recipient in the Country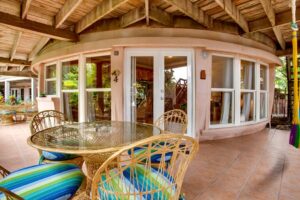 These design choices, along with the natural energy efficiency of concrete dome construction, gave Xanadu the distinction of the first Island Certified Green Globe Property in Belize. The Green Globe program, initiated in 1992, measures the environmental impact and sustainability of properties. Xanadu Island Resort has worked hard from day one to minimize its impact on the environment, including half of the property being designated as a nature preserve and walking park.
While dome construction itself is sustainable, the resort also boasts zero-energy water heating systems, utilizing low-energy lighting throughout the property and recycling, reusing, or repurposing almost everything the resort no longer needs. As a five-leaf resort, you know that you'll be keeping your travels environmentally friendly when booking a trip at Xanadu.
The Safety and Security of Dome Construction in a Dome Home Rental
Of course, one of the greatest benefits of concrete dome construction is its ability to withstand nature's most ferocious storms. When conventional home construction techniques fail, dome construction is steadfast. Even in 300mph winds, a concrete dome will remain nearly untouched.
This was put to the test at Xanadu Island Resort in 2000, when Hurricane Keith hit the nation of Belize directly. The Category 4 storm tore apart homes, resorts, and businesses with devastating consequences. Yet, in the midst of this powerful hurricane, Xanadu's domes remained intact. Very few resorts worldwide offer the same level of protection against storms.
Concrete Dome Paradise
Travelers can find resorts that provide just about anything and everything the imagination can come up with. But Xanadu boasts features that are completely unique from other resorts, with incredible sustainability, unparalleled safety, and a mission to support both the natural features and local communities that surround the property. It's a true paradise in almost every aspect, and it's built to last.
If you'd like to create your own paradise in a less tropical location, a concrete dome is a good option. Lakefront properties, scenic acreages, and mountaintop hideaways all serve as perfect places to design an escape from the busy schedules of everyday life. And dome homes can be built virtually anywhere to offer comfort, security, and enjoyment. They could even become your very own dome home rental resort if you're looking for a new investment.
Start learning about how you could build your own concrete dome home or rental property today by contacting Brooks Construction's KingDomes Builders. We will personally sit down with you and design a concrete dome plan that meets your needs and dreams. We also offer tours of our own model home with an appointment so you can see firsthand the benefits these unique buildings offer.