If your concrete flatwork is starting to look worn out, it might be time for a facelift. But do you have to invest in a completely new slab? Not necessarily. Decorative concrete overlays provide an updated look at a fraction of the cost of new flatwork, and they provide endless possibilities for the look and feel of your driveway, patio, or pool deck.
What Is a Concrete Overlay?
A concrete overlay is a layer of concrete that covers previously installed concrete, whether it's flatwork, floors, or formed walls. The new layer can be as thin as 1/8th inch, or it could be up to a couple inches, depending on the type of overlay.
With a new layer of pristine concrete to work with, your options for your flatwork or walls open up dramatically: you can incorporate any decorative service, instantly elevating the curb appeal and functionality of your concrete.
How Concrete Overlays Are Installed?
The key steps to concrete resurfacing are preparing the old concrete, applying the overlay mix, and finishing the new concrete. But within these three key steps, your concrete resurfacing project can take many more additional steps to get the look you want. From start to finish, here's what you can expect for a decorative concrete overlay project:
1: Prepare the Old Concrete
Your old concrete surface needs to be properly cleaned and prepped for the overlay to bond properly. The entire area of the concrete should be washed so it's free of debris, dust, and dirt. Any cracks, scaling, or popouts should be repaired as well so that the surface profile. This will take a specific concrete mix separate from your overlay mix. In some cases, you may also need to retexturize the surface of your concrete so that the new concrete bonds better.
2: Overlay with New Concrete
Once your old concrete is prepped and ready, mix your concrete overlay for the specific type of resurfacing job you're doing. Some overlays are floats that act more like liquid. These self-leveling mixes are useful for floor resurfacing, but they may not work well with driveways or concrete patios, both of which have engineered grades to prevent water from pooling.
For more decorative overlays, your mix will need a higher slump so that you can add any stamps or engraving you want. In these cases, you'll have to take extra care in making sure your overlay is graded appropriately, and you'll need a few more tools to complete this step.
The depth of your overlay depends on the kind of work you're doing, as well as the condition of the concrete you're resurfacing. Thin resurfacing is more useful for indoor work since you won't be fighting against freeze-thaw cycles or drastic changes in moisture levels. For outdoor resurfacing, thicker overlays provide a higher thermal mass and less difference in the contraction and expansion in comparison with the old concrete.
3: Finishing the Decorative Concrete Overlay
This is where the magic happens! Once your overlay concrete is poured and smoothed out, it's time to add the finishing touches. If you're just resurfacing for the sake of sealing up damage, a simple screed or float will be enough to make your concrete look great.
But if you want to revamp the look of your concrete, try a decorative technique to create some dramatic character and instant curb appeal upgrade. You can change the texture, color, and pattern of your concrete easily before the overlay has cured completely.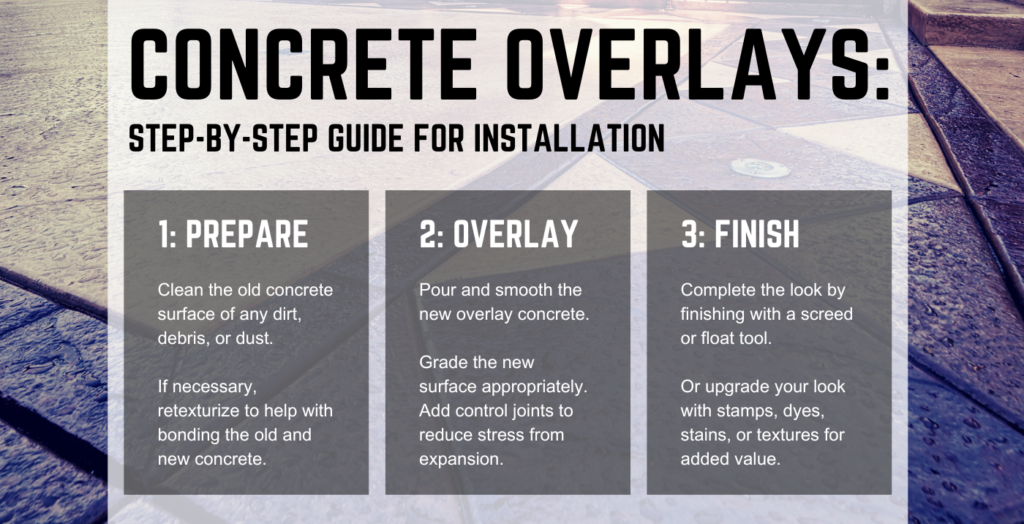 What Are The Options for Decorative Overlays?
Decorative overlays can incorporate any of the techniques available for concrete flatwork or slabs. From different colors and washes to flagstone-like stamps, your options are limited only by your imagination.
Stamped Concrete
One of the most beautiful options for decorative concrete is stamping. Stamped concrete can take on the look of brickwork, cobblestone, pavers, and natural stone with a much lower cost and far less labor.
And the main pattern can be modified with decorative borders to create an even more elegant look. This simple touch to a decorative concrete overlay can add incredible value without all the mess of completely tearing out and repouring your concrete.
Concrete Dye and Stain
Adding color to your decorative overlay can take your drab slab to a whole new level. Concrete dyes tend to provide more natural colors, while concrete stains can range from reds and oranges all the way to blues and greens. The best part is that dyes and stains never cure exactly the same way twice, making your new surface completely unique.
Polished Concrete
While polished concrete might not be ideal for outdoor surfaces (it tends to get slippery when it's wet), it's a beautiful finishing touch for interior concrete floors. And when combined with concrete dyes and stains, your floor can take on a granite or marble appearance with jaw-dropping results. This finish takes extra equipment and time, but it's a perfect option for basement floors or large gathering spaces to transform a space from nice to incredible.
Is a Concrete Overlay a Good Idea?
Now that you know what a decorative concrete overlay is, it's important to determine if using concrete overlay is the best choice for your project. It certainly has its advantages, but it's not right for every application.
Pros of Concrete Overlays
Wide variety of finishing options
Fast and simple installation for most finishes
Little to no need for heavy machinery or equipment
Cost-effective solution for most indoor and outdoor applications
Some concrete overlays and decorative finishes are DIY-friendly
Cons of Concrete Overlays
Some installations require professionals
Many finishes are complex and need specialized skills and equipment
Improperly installed concrete overlays will crack or delaminate
Not recommended for severe cracking or damage, or in places where climate changes can cause frequent freeze and thaw cycles.
While there are some specific cons and limitations to using concrete overlays to repair your old concrete surfaces, in most cases it's the best bang for your buck. And beyond its cost-effectiveness, you get the opportunity to completely change the look of your concrete, adding both beauty and value to your spaces.
Your Concrete Resurfacing Done Right
Concrete resurfacing is a great option for tired concrete driveways and patios, but having a professional in charge of the work is often the best choice. That's where Brooks Construction comes in. Our decades of experience with decorative concrete and overlays give you the confidence that your new surface will provide enduring beauty and functionality.
Get started by contacting us today, and see how decorative concrete overlays can improve your home's value and give you a space you'll love to use!