Strength, energy efficiency, and safety are the hallmarks of concrete domes. These are just a few reasons dome homes are becoming more popular today. People are looking for an option to keep their families safe and secure, and with energy prices increasing, there's no better time to look at reducing your heating and cooling expenses. But can you fit a full family into a concrete dome home?
With our two-story Orion, you absolutely can!
Lots of Square Footage
With a 46-foot diameter, this two-level floor plan provides over 2,500 square feet of living space in a relatively small footprint. This leaves plenty of room on the lot for a garage and a spacious yard. The circular footprint also makes it possible to maximize the usable space while keeping a stylish and open feel.
This two-story plan offers an incredible overlook from the second floor down to the lower level, keeping an open feel throughout the space. This 5-bedroom, 3-bathroom home is just perfect for a growing family!
Lower Level: Space for Friends and Family to Gather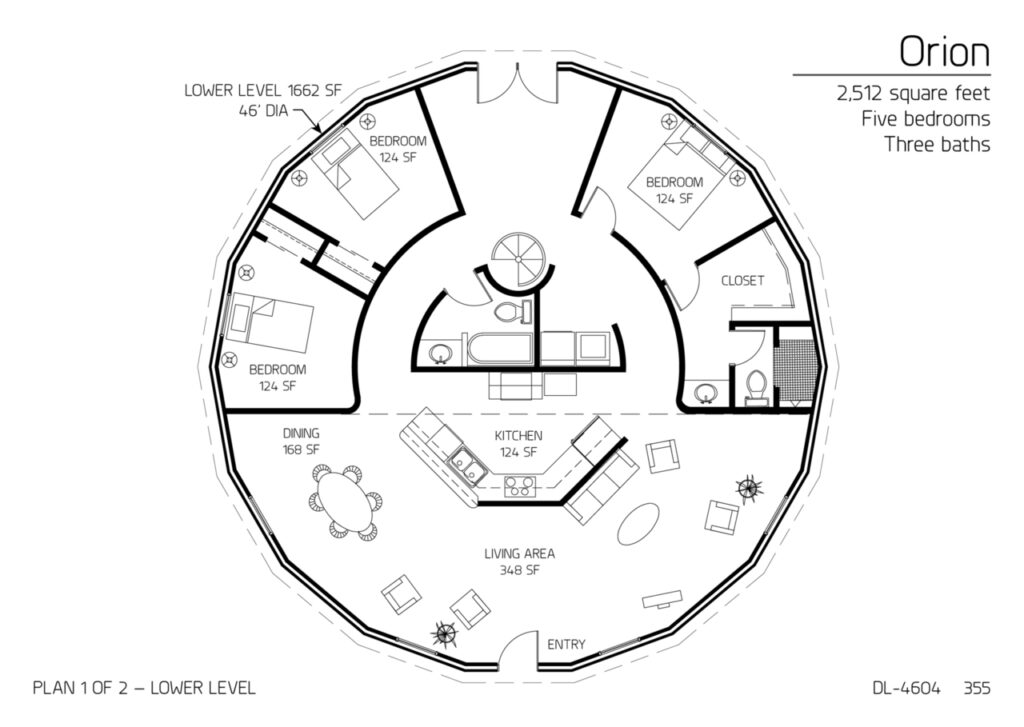 The lower level boasts 1,662 square feet, two guest bedrooms and a guest bath, and a full master suite. But what really catches the eye is the open living space in this design. Nearly half of the lower level is dedicated to an open great room with a wrap-around kitchen island at the center. 
Guests walk into a comfortable seating area on one side and a large dining area on the other. The kitchen can be customized for an open feel, or a wall can partially separate the space for a quieter atmosphere around meal times.
Behind the main living space is a full bath with a full-size tub for the guest bedrooms. There's also a laundry room that shares a wall with the bathroom. A spiral staircase sits at the center of the entry space facing the back french doors. To one side are two guest bedrooms, and to the other is the master suite with a walk-in closet and a tiled shower.
Upper Level: An Open Dome Home with Great Guest Space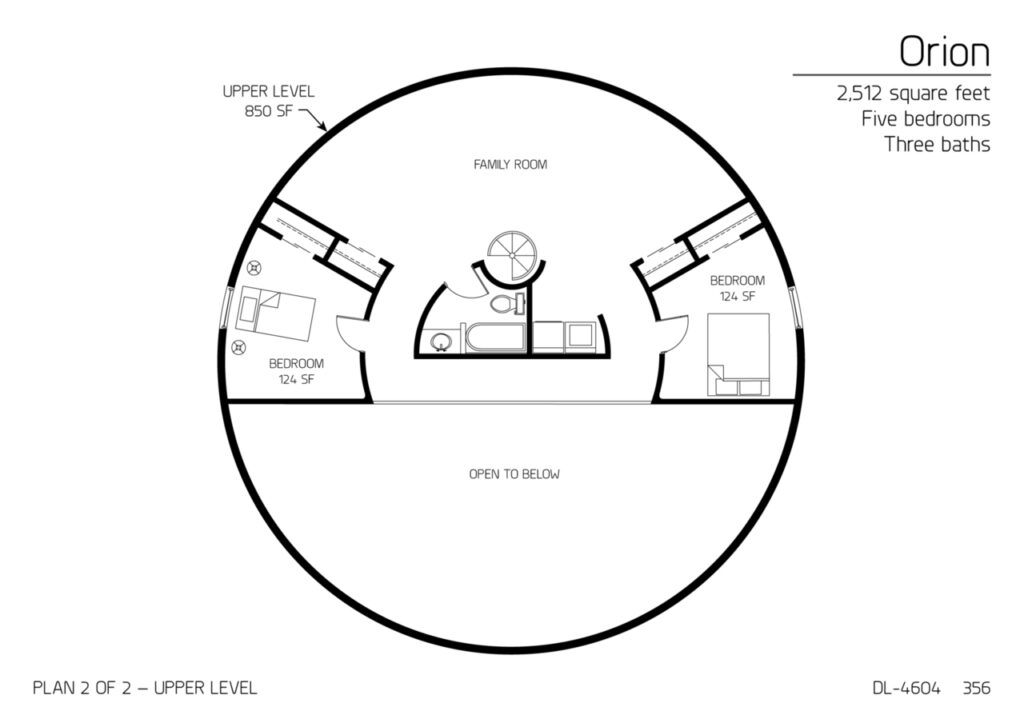 After taking the spiral staircase to the second floor, the first thing you'll notice is the large family room facing the back of the house. With a large, uninterrupted exterior wall, you can add as many windows as you want to take advantage of a hilltop view or a warm sunset. This room can also include storage spaces on either side.
Behind this room is another bathroom and storage area, which backs up to a balcony overlooking the living and dining rooms below. Two more bedrooms fill out this space, for a total of five bedrooms and three bathrooms in this 2,512-square-foot home.
Customization is Always an Option for Dome Homes
The Orion is an excellent floor plan for a family, but it's worth noting that every dome home we build is fully customizable. With no interior supports necessary, the solid exterior dome structure provides a blank slate for homeowners to create their dream home. Honestly, there's no limit to what can be done with a space like this!
The open plan of the Orion offers some beautiful architecture and functionality, but if you're looking for more square footage without building a bigger foundation, the upper floor can be expanded to nearly double the available space. Whether it's more bedrooms, a large bathroom, or a room for hobbies or workouts, dome home plans are perfect for customization.
Beyond the footprint, there are many plans that incorporate additional dome structures that you can make into your perfect dream home. Explore our floor plans, or schedule a tour of our own model dome home, right on our grounds! With heating and cooling savings, the dependability of a FEMA-designated safe house structure, and the low-maintenance needs of our steel-reinforced concrete and airform construction, this may be the dream home you never knew you needed!