Concrete domes are incredibly versatile. From storage for crops to homes to safehouses, these unique structures offer unparalleled flexibility while maintaining FEMA-approved safety and security standards. And in Fort Worth, Texas, Rocketship Schools is putting this versatility and safety to excellent use in their newest school building. This concrete dome arena will be the centerpiece of their new flagship facility.
Rocketship Schools and Cutting Edge Choices
Founded in 2007 in San Jose, California, Rocketship Schools is dedicated to eliminating the gap often seen between middle-class student achievement and low-income student achievement. Using a hybrid model for education, Rocketship has built 21 online and in-person facilities across the nation, including schools in Nashville, Washington D.C., Milwaukee, and the Bay Area.
Now, with the campus in Forth Worth set for completion for the 2022-2023 school year, Rocketship's new flagship campus will include an impressive concrete dome attached to its two-story classroom, office, and learning lab building. And with some unique technology behind its construction, this dome arena will be unlike any other school facility around.
Rendering by Element Architects.
About the Concrete Dome Arena
The Rocketship concrete dome arena started construction in January of 2022. While dome structures are typically built with custom-fabricated inflatable airforms, this particular dome used a new method that eliminated much of the complication of past methods.
The plans for this arena required a 12-foot stem wall around the base, with a dome on top of the 111-foot diameter. The dome itself rises 16 feet above the stem walls for a total height of 28 feet. The interior offers about 7,400 square feet of space, divided between a 5,500-square-foot gymnasium and basketball court and 1,900 square feet of cafeteria, kitchen, storage, and restroom space.
The school plans to use the dome to house physical education classes, recess in inclement weather, and space for assemblies and performances. But, as most schools have shown, there are alternatives to large dome structures for these uses. Why would this charter school choose a concrete dome?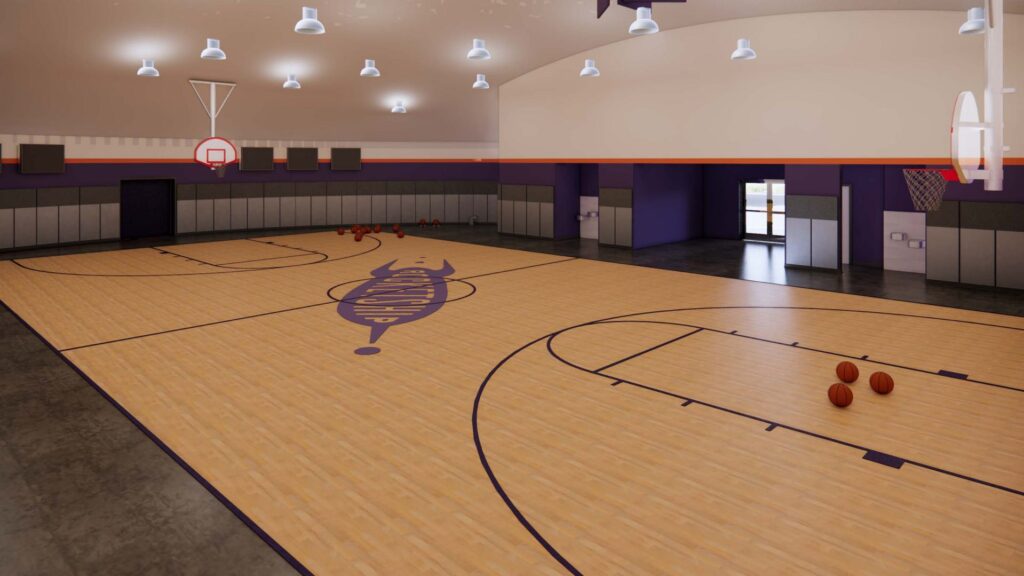 Why Build a Concrete Dome Arena?
The 2015 International Building Code (IBC) requires all schools with 50 or more occupants in tornado-prone areas to build a structure strong enough to withstand 250mph winds. This kind of building requirement is expensive and time-consuming, and it usually means reinforcing hallways or structural elements of a portion of the main school building. However, when these kinds of reinforcements are made to a building's footprint, the extra cost doesn't equate to a usable added space. Instead, it's just money buried inside classroom walls and corridors.
Rocketship Schools went a completely different direction, thinking about practicality alongside safety. The solution was this enormous concrete dome arena and multipurpose space. Attached to its main building, the massive dome structure not only provides another 7,400 square feet of practical space but also offers an ICC 500 storm shelter with only a few minor changes to the standard dome structure.
By adding storm-rated doors and windows, along with protected HVAC penetrations, the school could provide both an excellent facility and a safe shelter for the students. Now that extra cost was put into full use, making a much better investment for Rocketship Schools.
How Rocketship Schools Built the Arena
Many schools have turned to dome buildings for both recreational and educational purposes, but Rocketship Schools was able to utilize a new technique in dome construction that impacted everything from time frame to cost: the transition ring airform.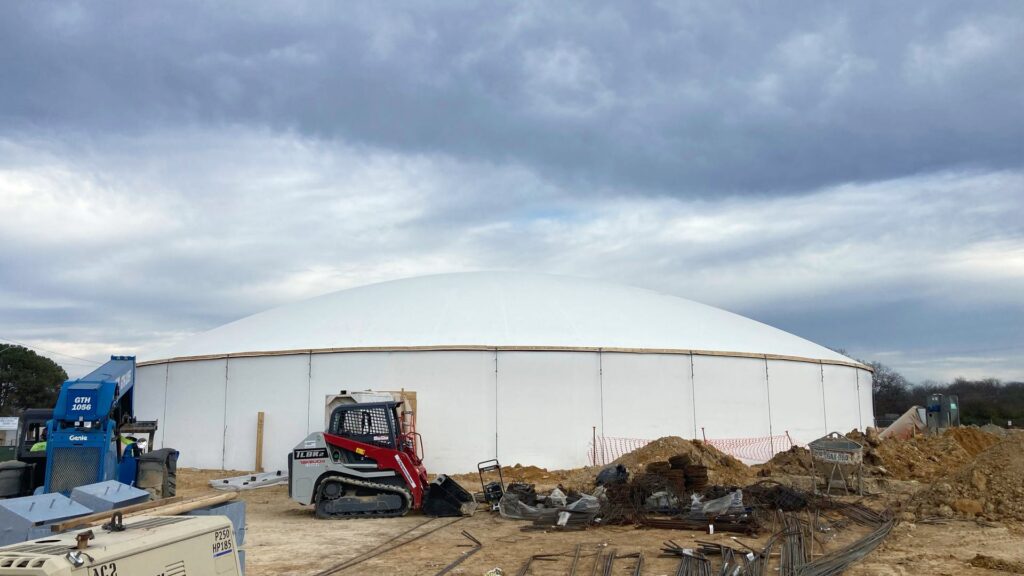 In the past, stem walls had to be built separately from the inflated dome structure that fit on top of them. The walls were often built with cinder blocks or poured concrete, but it left a cold joint between the two elements of the final structure. This meant more contractors, more time, and more cost for the final product. If schedules weren't met as intended, the project could be pushed out dramatically, missing deadlines and leaving the building owners without the facility they needed.
The transition ring airform, however, cuts out an entire construction step by incorporating both the stem wall and the dome into a single piece. The inflatable airform includes a large ring made of a 4-inch diameter steel bar to transition from vertical walls to the spherical dome. This airform is inflated just like any other dome airform, but now the stem walls are built by the same team of contractors as the dome.
Inside the airform, the concrete dome arena consists of around 4 inches of polyurethane spray foam applied directly to the interior surface, followed by around 2 inches of shotcrete. Steel rebar is then anchored into the structure before a second, thicker layer of shotcrete is applied over the rebar. The result is a structure even stronger than its predecessors. And it's completed in less time with less money and less subcontracting.
The Ultimate Pairing of Strength and Usefulness
In parts of the country where tornadoes are common and quite strong, it is incredibly important to have a safe shelter available for schools. Seeing the possibilities of a concrete dome arena, Rocketship Schools invested in a structure that would outlast any storm and still provide the best return on investment for the community this Fort Worth school will serve.
If your school district is looking towards the future with plans to expand or build, it might be time to look into this new technology to see if it's right for your community. At Brooks Construction, our KingDome Builders are ready to sit down and discuss the possibilities of a concrete dome arena for your district. The affordability compared to conventional construction, combined with the safety standards of FEMA-approved "near-absolute protection," make a concrete dome an excellent choice for elementary, middle, and high schools alike. Reach us online to schedule an appointment and learn more.