Concrete Homes
A Look Into Concrete
Concrete homes are the most durable, low maintenance homes available today and offer the highest degree of safety for fire, water and extreme weather. Because concrete has high mass, it can store significant amounts of thermal energy, which dampens the effect of temperature change on heating and cooling systems. Let Brooks Construction show you the benefits of building a concrete home, and you'll know why this building process is superior to anything else on the market.
Brooks Construction Is The Only
Concrete Roof Contractor In Sioux Falls, South Dakota.
What is RCF?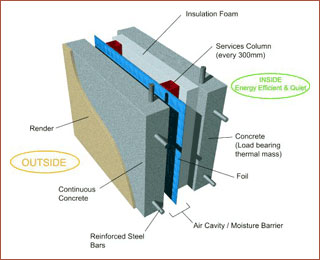 Removable concrete forms (RCF's ) sandwich insulation between two layers of concrete – all joined together by high strength fiber composite connectors, resulting in a wall system that provides unparalleled energy efficiency and uncompromised moisture resistance. In houses using " typical" construction methods, warm and cool air transfer very quickly and easily, causing the temperature to fluctuate in your home and your air conditioner or furnace to work harder.
Energy Efficiency
A study conducted by the University of Las Vegas Center for Energy Research showed that a concrete –built home produced a savings of $200 a month in energy usage when compared to a traditional wood- framed home of the same size and floor plan.
Everything Concrete
From foundations to fireplace surrounds driveways to decorative inlays, sidewalks to swimming pools, countertops to complete homes – there's nothing more durable and beautiful than concrete. Brooks Construction has been the area leader in everything concrete since 1964 and continues to expand their services with the latest in new advances in concrete, offering you the highest quality products and services.
Entire Homes Can Be Beautifully
Constructed of Concrete!
Common Wood Home Concerns
High utility bills
Mold growth
High Maintenance
Drafty
Noisy
Benefits of Poured Concrete Technology
Durable
Best protection from severe weather
Concrete has the highest fire rating of all construction materials
Remarkably quiet – minimizes noise infiltration
Solid concrete construction provides a safe and secure home
Solid, seamless walls reduce water and wind intrusion
Resists fire, mold and termites
12 inch thick reinforced concrete walls are strong and exceed high wind code specifications
Affordable
Poured concrete wall costs are comparable to traditional methods
System's building approach reduces labor and accelerates construction requirements
Superior concrete structures lower homeowners insurance rates
Efficient
Typical savings of 50% – 80% on heating and cooling costs as compared to wood from a construction
Solid concrete thermal storage capacity promotes more uniform temperature control
Improves indoor air quality
Environmentally friendly – follows 'green' building objectives
No wasted construction materials
[album id=1 template=compact]